Bleep Bloop - Prime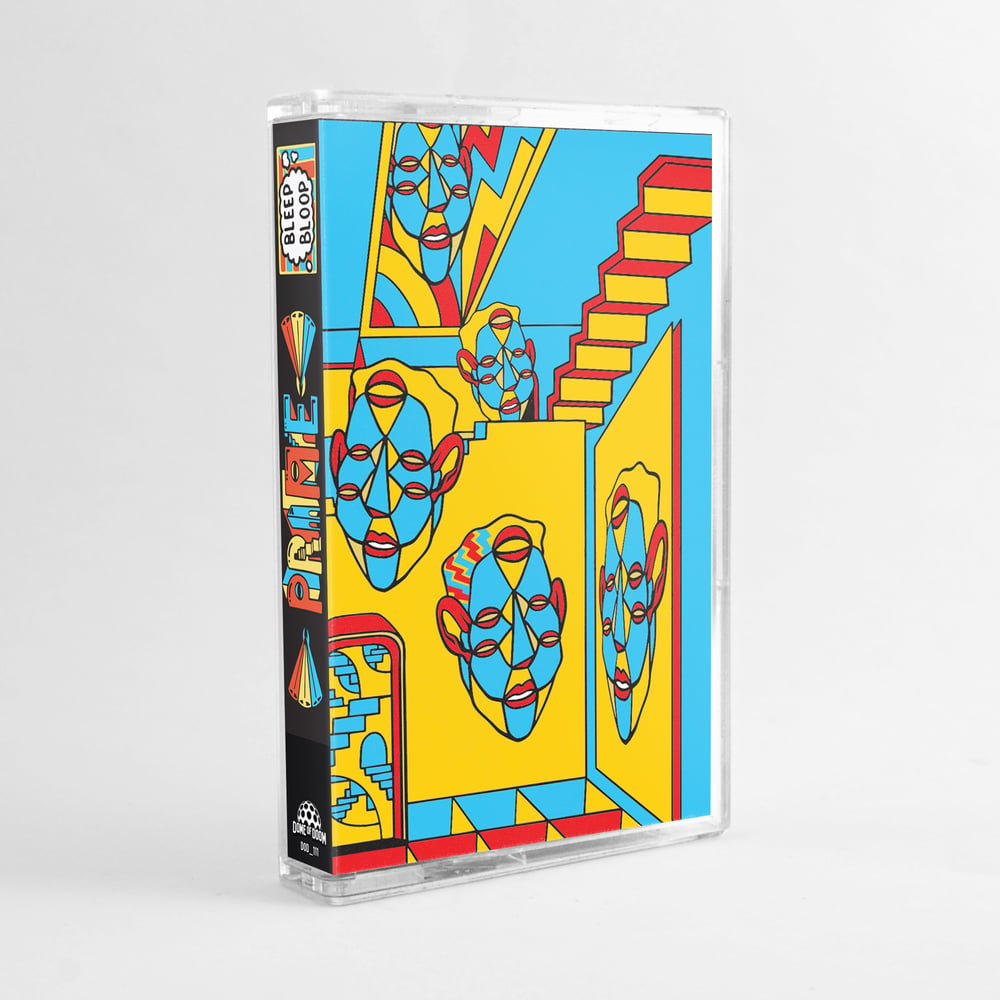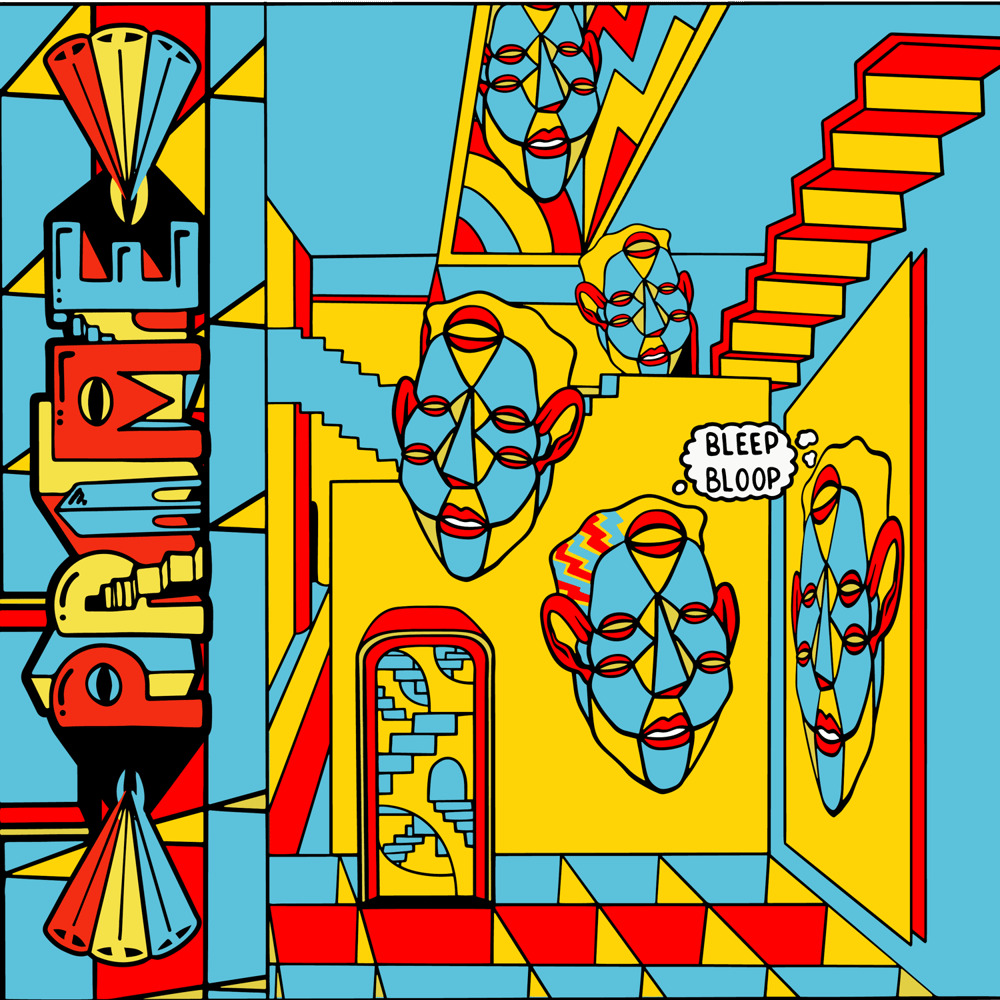 Bleep Bloop - Prime
Dome of Doom
Cassette/Digital
October 28, 2022
Aaron Triggs is back as Bleep Bloop, presenting the stunning body of work Prime. Scheduled for release October 28th with Dome of Doom, it's a follow-up to the Revenge EP from October 2021 and lands just after the debut record from Triggs' new ambient and music concrète project, Fossil Fog. Ever since Bleep Bloop jumped onto the scene in the early 2010s, innovation through deep corridors of electronic music has always been at the forefront. Leaps always taken from one record to the next, Prime follows suit, extending his electronic foundations with a deeper sense of exploration and craftsmanship. Interwoven mutations into songwriting structures are melded into a tonality of diversity that swarms and changes at rapid speeds. Within seconds, things go from one extreme to the next, pinned together through a sense of harmonious glory and experimental deviation that jumps by genre and not just sound design. Bleep Bloop continues his foray into singing and dynamic vocalism, this time proving to make his highest leap across a record like Prime. "Lyrically speaking," Bleep Bloop adds, "and vocally speaking, my influences just come from my favorite singers I think. Tom Waits, Howlin' Wolf, Fiona Apple, Alice Coltrane, Johnny Cash, the list goes on and on. I just tried to keep it as raw as possible, while still hopefully being fun to listen to." Back on artwork duties is longtime visual collaborator Gary Paintin, with heavy usage of prime colors this time around. Both decided to move outside of the black and white imagery that's dominated recent Bleep Bloop covers.
Prime is an album of abundant sound classification that relies on unique melding, never landing in one space but always retaining that singular pulse Bleep Bloop wraps around all of his releases. It's unquestionably a Bleep Bloop record even though it sounds unlike anything else in his catalog. Album opener, "Coyote Howl," begins the album with explosive energy, emanating with a post-rock fiery glaze that swirls tightly around doomsday vocal work. The climatic wave of emerging sounds that continues to build as each vocal passage unfolds is surreal emotionally, calling to the days when Mike Patton's Fantômas were first introducing their sound to the world. "Curb" follows, with wildly exploratory sound design sheets and fierce drum attacks dominating the intro. The environment is dark and borderline claustrophobic, shattering outward in its second section with complex drum patterns and even more wildly constructed sonic sheets. The walls continue to come in as the music heightens in energy and the spacing between layers becomes even thinner. "Poison Sweetroll'' simmers in ambient bliss and tranquil harmony during its introduction, completely changing the scenery of Prime and advancing the album's overall dynamics into roller coaster territory. Metallic percussion and drum patterns skitter all over the mix, with beautiful vocal scatters interjected all over. One of the most club-orientated moments of the album happens next, heightened with a powerful bass and drum tandem that soars. It's one of Bleep Bloop's most unique tracks to date, harnessing the power of pop as layers bleed into distortion and the experimentation still takes center stage.
"I Never Told You My Name" moves Prime into yet another world and is one of the album's most dynamic and fascinating pieces. Interjecting haunting melodies and pitched down vocal work that makes the first stretch transfixing, you can tell within seconds this is something otherworldly and all together transformative for Bleep Bloop. The heart of the kick drum punches after the intro ensues, setting up the track for a drastic lift off. The drums heighten and the intensity activates, exploring regions unfelt on the LP prior. The groove is alive and well during the second phase, only to fall deep into an abyss of emotion as the third phase calls back to the tonality of the introduction. The vocals are passionately raised to lyrical apex from this point forward, mutated into heavy effects and stunning synth work. One of the only traditional synth solo's on Prime takes over from this point, crafted as one of Bleep Bloop's finest masterpieces to date. "Courting An Ancient Machine" follows, serving as the midway point to Prime. It breathes heavily in low end frequencies, relying on amorphous synth trails that are soaked in distortion and endless shifting. There's an emanating flow of raw essence, continuing Prime's journey as a vehicle for constant exploration. "Chainbreaking" is Prime's most hard hitting and abrasive piece, more aligned with the unique instrument creationists that are activating power tools into their general sound design. Vocals are first chopped and screwed into a stunning pace, with an underside of bass that swings back and forth. You can feel the teeter pull from one end to the next. Once the power tool electronics come and all other elements prior emerge, all hell breaks loose and Bleep Bloop finds himself in new music territory yet again.
"Hammer and Serpent" retains the submerged futuristic landscape of the last piece, "Chainbreaking," looping synths that pan across the mix with molten energy. Percussion and bass swells off these loops with intensity, constantly pulsing with each energy blast. "Hammer and Serpent" is music that truly delves into destructive tonality and bleeds from every seam. Lead single "Brightlight Let Me Go" moves the listening experience out of the chaos with what first sounds like journeying up from a deep part of the ocean. The section that breaks out from here calls back to the work Bleep Bloop conducted under the umbrella of DJ Shadow's Liquid Amber label. Shimmering synth, ambient layering, and distorted overtones interject forward, setting up the track for one of the most brilliant shifts within track. A shift where groove and sound design create some of the most stunning stretches together. Prime closer, "Fires," ends the album with a psychedelic trip into the abyss of Bleep Bloop's signature experimental electronic style and showcases harmonic resonance in one of the strongest ways across the LP. An extreme shift takes place as triplet drum blasts and widely unhinged guitars take over during the second section and launch the record into full blown experimental metal territory, only to land back into an ethereal space as the distortion subsides and the harmonic/rhythmic composing really jumps off the charts.
With a new professor role teaching synthesis and sound design, Bleep Bloop has naturally taken a step away from mainstream DJ club culture. This new path has given Bleep Bloop an entirely different scope on creating, with last year's Revenge EP serving as one of the first statements from this new sense of trajectory. Prime is the most realized version of this new path thus far, surpassing anything he's released prior. Prime is available with Los Angeles' Dome of Doom on cassette and digital formats October 28th.
"The ethos behind this album was about stepping away from so much DJ format music and moving into a composition style and arrangement that felt more open-ended to me. I created these songs in the same period I created my Fossil Fog project's debut EP, thinking it would all be for a new project. When the dust settled, though, it was clear that a good chunk of the music I had made was still under the Bleep Bloop umbrella, just evolved, so I decided I would just take Bleep Bloop in a new direction and leave Fossil Fog for the more ambient works. So thematically, it was just a rebirth in trying new things and breaking out of old molds." - Bleep Bloop
credits