DECADE OF DOOM - 10yr Anniversary Compilation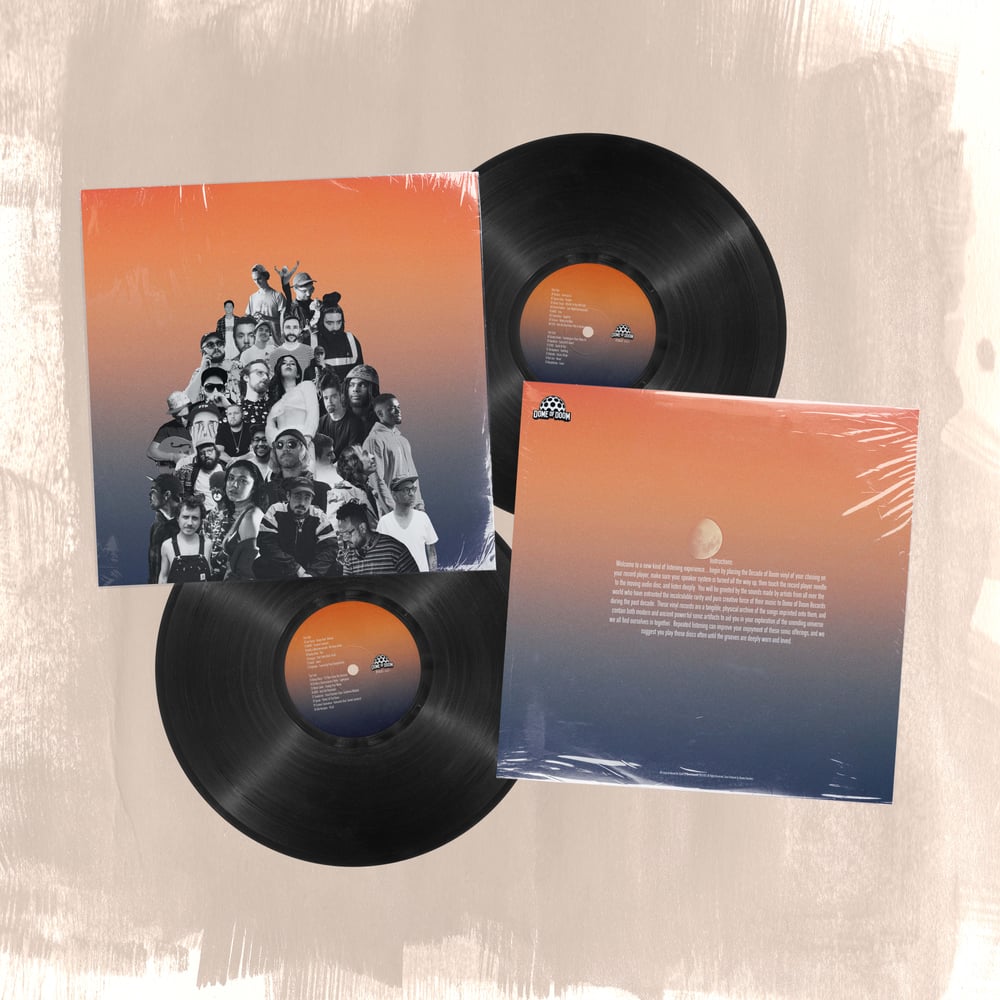 VA - Decade of Doom
Dome of Doom
September 21, 2021
September 2021 marks the 10th anniversary of Dome of Doom and to celebrate, the label presents the 2LP vinyl compilation Decade of Doom. Collecting 30 tracks spanning from 2011-2021, label founder Wylie Cable put together Decade of Doom as a reflection of the first pillar in a long and continuing story—and the many phases the label has experienced thus far. Decade of Doom comprehensively serves as a homage to many of the artists, people, and experiences that tell the label's story, splintering outward toward an abundance of communities that continue to nourish one another. These tentacles all leading back to the hand-selection of releases Cable has diligently been at the heart of since the first vinyl and cassettes were pressed.
Decade of Doom begins with the formative years in Los Angeles and San Francisco when Cable was enthralled by various avenues of avant-garde music and artist communities. This was a time when he would create a space for his friends and collaborators to launch their own music into the world. Originally playing in the SF grunge band The Deathmedicine Band and self-releasing tapes and vinyl from a garage in Excelsior on Dublin street, Cable continued to curate the label as the DIY project grew and changed overtime into a fully fledged independent record operation with over 1,500 songs in the catalogue.
Things drastically transformed as the weekly club event Low End Theory was beginning to explode and the burgeoning beat scene took flight with many artists on the label finding their way to the stage of the Airiner following their debut Dome of Doom releases. This was also around the time Cable took on new responsibilities and learned new skills as a touring VJ under the guidance of Strangeloop. During his world tours with artists like Lauryn Hill, RAC, and Flosstradamus, Cable continued to expand the Dome of Doom distribution network by going directly to record shops across Europe, the U.K., Canada, and all over the states. With cassettes from the label in hand, the relationships forged during this era remain to this day. The most recent phase marks the introduction of visionary artists like South Africa's Jon Casey, former DJ Shadow protegee Bleep Bloop, and New York experimental house specialist QRTR. These expansions have occurred while DOD has bridged living legends like Daedelus and Odd Nosdam for new and archival entries.
Decade of Doom includes: (in order of appearance) Phedee, Space Gang, Kenny Segal, Dream Panther, Ahee, Eraserfase, Elusive, ELOS, milo, Busdriver, Gnome Beats, Myka 9, Daedelus, CLYDE, Shrimpnose, DJ Nobody, Rah Zen, NastyNasty, Jon Casey, Dabow, DMVU, Woolymammoth, Holly, Huxley Anne, Gangus, Paint, thook, Alphafox, Gangsta Boo, Bleep Bloop, Goon Des Garcons, DJ Ride, Stereoassauro, Wylie Cable, QRTR, SnakeFoot, Stephanie Wilson, Speak, Context Chameleon, Tomoki Sanders, and Odd Nosdam.